Tim Hortons RRROLL UP THE RIM TO WIN Contest
Eligibility
The Tim Hortons RRROLL UP THE RIM TO WIN Special Edition 150 Contest (RollUpTheRimToWin.com) is open to legal residents of Canada who have reached the age of eighteen (18).
Period
The Tim Hortons RRROLL UP THE RIM TO WIN Special Edition 150 Contest ends on July 21 at 11:59:59 p.m. ET.
How to play
Guests at participating Tim Hortons locations in Canada may receive one specially marked Tim Hortons 10, 15, 20, or 24 oz hot drink take-out contest cup with the purchase of any corresponding small (10 oz), medium (15 oz), large (20 oz), or extra-large (24 oz) hot beverage, while supplies last. Each Cup will contain a roll. After completing a Roll, revealed inside the rim will be a "WIN" or "Happy Canada 150th / Joyeux 150e du Canada" message printed on the RIM tab. A "WIN" message will describe the specific prize available to be won. More information at RollUpTheRimToWin.com.
Prizes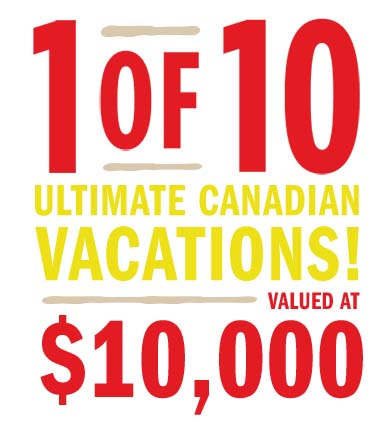 The following prizes are available to be won of the Contest across Canada in relation to Rolls :
A) Ten (10) Ultimate Canadian Vacation prizes. Approximate retail value of each Ultimate Canadian Vacation prize is estimated to be $10,000 CDN inclusive of any applicable sales or travel taxes.
a. Winner may choose either:
i. Travel Option: $10,000 CDN to be used towards travel bookings within Canada for winner using the booking agent and providers of Contest Sponsor's choice, including one (1) or more of the following: airfare, train, intercity bus, accommodations, or car rental. The cost of winner's Bookings shall include all agency and booking fees, applicable taxes or other travel fees or taxes, if any, associated with the Bookings.
OR
ii. $10,000 Option: Ten thousand Canadian dollars (CDN$10,000), in the form of a cheque payable to winner.
B) Eight thousand (8,000) $50 CDN Tim Card prizes.
C) Sixteen million three hundred sixty-seven thousand two hundred sixty five (16,367,265) Coffee & Food prizes. "Winning" RIM TABS are for the following Coffee & Food Prizes and have the following approximate retail values: (i) Coffee: $0.70 – $3.29 CDN each (ii) Donut: $0.99 – $1.49 CDN each; or (iii) Latte: $2.99 – 3.29 CDN. For the "Winning" RIM TABS for coffee & food prizes, 50% are Coffee, 35% are Donuts and 15% are Latte.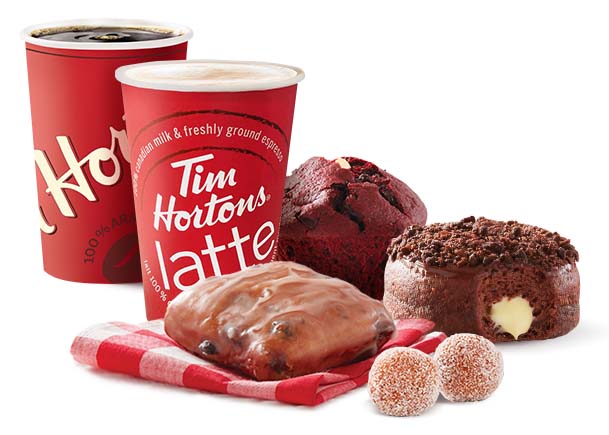 Total approximate retail value of all Prizes is $26,771,603 CDN.