31 Days of Circle K Contest
Play daily the 31 Days of Circle K Contest at CircleKGames.ca. Over 20,000 prizes to be won per day. Christmas CircleKGames. December.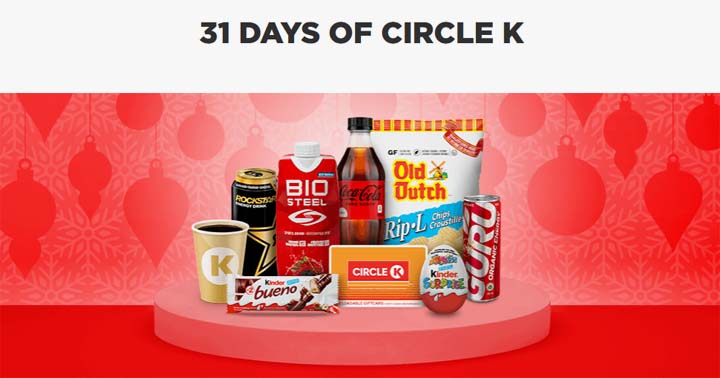 Who can Enter ?
The 31 Days of Circle K Contest is open legal residents of Canada who are 13 years of age or older at the time of entry.
Who does the Contest end ?
The 31 Days of Circle K Contest ends on December 31 at 11:59pm (EST).
How to Participate ?
To enter and participate the contest, visit CircleKGames.ca or 31daysofck.circlekgames.ca, select the Province you are playing from, enter your mobile phone number, and play the game.
To play the game. Tap or click on the Advent calendar box with the number that corresponds to today's date. Find out if you won an Instant Prize and enter for a chance to win today's Daily Grand Prizes.
Maximum one (1)game play and one (1) instant prize per day per mobile phone number.
What are the Prizes to be won ?
A total of fifty (50) Daily Prizes and 542,417 Instant Prizes are offered, which consist of the following:
Free Coupon
Nuts, candies and chips
Red Bull, Rockstar and Guru drinks
Circle K and Visa gift cards
Play every day to win.